Στο διεθνές συνέδριο με τίτλο "The 3d International Youth Conference in Seongnam" που διεξήχθη στη Νότια Κορέα, 30/10- 03/11 2019, συμμετείχε ο Όμιλος Ενεργών Νέων Φλώρινας.  
Το διεθνές συνέδριο διοργανώθηκε από το ίδρυμα "Seongnam City Youth Foundation(SN.UTH)" στις εγκαταστάσεις του Εθνικού Ινστιτούτου Διεθνών Σπουδών της Νοτίου Κορέας (National Institute for International Education, South Korea). 
Η θεματική του συνεδρίου αφορούσε τη νεολαία, τις προκλήσεις του μέλλοντος και τον ρόλο της επιχειρηματικότητας και της εκπαίδευσης των νέων στην επιχειρηματικότητα.
Στις εργασίες της πρώτης ημέρας του συνεδρίου συμμετείχαν 120 νέοι από τη Νότια Κορέα, την Ιαπωνία, τη Νότια Αφρική, την Γερμανία, την Σιγκαπούρη και τις Η.Π.Α., ενώ στις εργασίες της δεύτερης ημέρας του συνεδρίου συμμετείχαν πάνω από 200 εκπαιδευτικοί όλων των βαθμίδων από τη Νότια Κορέα. 
Ο Πρόεδρος του Ομίλου Ενεργών Νέων Φλώρινας και Νόμιμος Εκπρόσωπος του Europe Direct Δυτικής Μακεδονίας, Κωνσταντίνος Φιλιππίδης και ο Αντιπρόεδρος του Ομίλου και Επικεφαλής του Europe Direct Δυτικής Μακεδονίας Κωνσταντίνος Στεργίου, ήταν οι δύο από τους έξι συνολικά προσκεκλημένους ομιλητές από την Ευρώπη, οι οποίοι συμμετείχαν στο διεθνές συνέδριο με ομιλίες, experts' debates, workshops και online forum με αναφορές στο σημαντικό έργο του Ομίλου Ενεργών Νέων Φλώρινας στον τομέα της Νεολαίας και επιστημονικές έρευνες του Συμβουλίου της Ευρώπης στον τομέα της νεολαίας και της εκπαίδευσης στην επιχειρηματικότητα. 
Οι ομιλίες του Προέδρου του Ομίλου Ενεργών Νέων Φλώρινας, Κωνσταντίνου Φιλιππίδη
Οι ομιλίες του Αντιπροέδρου του Ομίλου Ενεργών Νέων Φλώρινας, Κωνσταντίνου Στεργίου 
"Πολιτικές για την νεολαία και ενθάρρυνση της κοινωνικής συμμετοχής και της κινητικότητας". 
Η ομιλία του Προέδρου του Ομίλου Ενεργών Νέων Φλώρινας, Κωνσταντίνου Φιλιππίδη με την ιδιότητα του expert σε θέματα νεολαίας και επιχειρηματικότητας.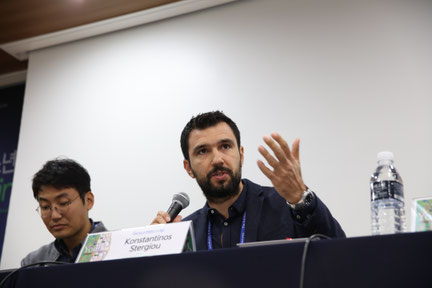 "Εκπαίδευση στην επιχειρηματικότητα και ο ρόλος της εργασίας στον τομέα της νεολαίας - youth work" - "Youth Work and Entrepreneurial Learning"
Η ομιλία του Αντιπροέδρου του Ομίλου Ενεργών Νέων Φλώρινας, Κωνσταντίνου Στεργίου με την ιδιότητα του ερευνητή και επιστήμονα του Συμβουλίου της Ευρώπης, Council of Europe, Pool of European Youth Researchers (PEYR). 
Η παρουσίαση της ομιλίας είναι διαθέσιμη εδώ.